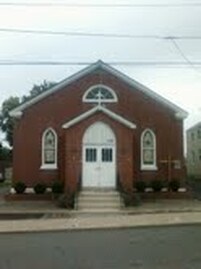 We'd love to have you join us
Acknowledging the challenges and concerns associated with the ongoing pandemic,
Living Faith Lutheran Church has modified the conduct of live worship in the sanctuary
to reduce direct interaction between participants as much as possible.
Wearing masks is considered a personal choice.
A live stream of the service is shown in the fellowship hall for people who prefer more space. Since we understand that some may still not be comfortable attending in person worship,
an edited audio version of a message from a prior live worship service,
and the corresponding bulletin,
are typically posted on this site each weekend with the links below.
We continue to pray for God's guidance and protection for everyone in these difficult times.
Sunday morning worship is at 9:00am, with Sunday School at 10:30.

(You can also check out our Facebook page).
---
---
What To Expect:

We are a friendly, welcoming group of Christians who love our Lord and want to serve others, following Christ's example. We welcome everyone to our services. Come as you are. Dress is casual.


Our Church Mission:

We, as a faithful, Christ-loving community of free Lutherans worship God, adhere to and teach Biblical principles and spread the Good News of Jesus Christ through our actions, service and love for others so that all who believe may have eternal life.

---
Weekly Church Schedule

Sunday Church Service: 9:00am
Sunday School (All Ages ): 10:30 to 11:30am
Women's Bible Study:
Wednesday Evenings 7:00-8:30pm (On hold for the summer)
Men's Breakfast: The 2nd Saturday every month @ 8-9am.
Bible Study: Bible Study in person and online (Zoom)
Thursday Evenings from 7-8 pm.
---
God's Word for Life Radio Devotionals


Aired on WBYN 107.5FM - Boyertown



---
Audio and Scripts of Previous Sermons